About Us
We are a small breeder in Ontario Canada. We breed mostly buffs but have male Parti Colour boys and one nice Black boy. These dogs were all successful in their show careers.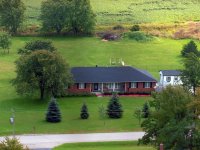 Encountering the American Cocker Spaniel:
In 1995 my very special boy Beau, a wonderful tempermented and loving black and tan Afghan Hound, passed over the bridge at 6 years of age of Osteo Sarcoma. We tried everything to save him to no avail. This breed was the love of my life, I always thought there was nothing more beautiful than a full coated Afghan Hound on the down and back coming toward you. The hair flows with such beauty.
One morning I was on my way shopping to the mall, Canada's favourite pastime. I drove past a house and saw some little blond puppies running around playing in a kennel yard. Of course I slowed down and went to the house. I looked in and had a smile on my face. They were little Buff Cocker Spaniel puppies. The home of Lurians American Cocker Spaniels. I went home and got my husband. We went back to look at the puppies without an appointment, breaking all rules but were welcomed and invited in by Olive and Bruce Simmons. There was Timmy, Lurians Admiral, who became our first American Cocker Spaniel. Timmy was show quality but we did not want to go back to the show ring at this time.
I started to meet the cocker ladies of our area and they began speaking of going to "Spaniel Club" finally I had to ask, "what is this club"? I was invited to go with them, and the rest is history. We went into the show at Collinsville Ill. there to my right was a row of pens with cockers in them, I was in heaven, my eyes went directly to a white cocker, I looked at Olive and said "You did not tell me there were white Cockers" Olive informed this was a black skinned silver. Very uncommon to see these. By the end of the show after stalking the owners and breeders of this girl I was sure she would be mine someday. And she was. Now 14 years old Snowy River Silverdust, Silvi, became our Foundation Bitch here at Entrenous American Cocker Spaniels.
We have met some wonderful people, done a lot of travelling to dog shows, learned so many new skills and have had some great successes with our dogs.
Donna Ammonn
---